While we don't actually know what the word Zoosk means, we do know quite a bit about this popular dating site. With over 40 million members and 3 million + messages sent every day, Zoosk is one of the most popular dating sites on the market.
But is Zoosk the right dating site for you? Is Zoosk legit? How does it all work? If you're looking for the answers to these questions, you're right where you need to be.
In our Zoosk reviews, the team breaks down all the details you need to know to figure out if it's a match made in heaven or time to try a different dating app.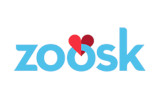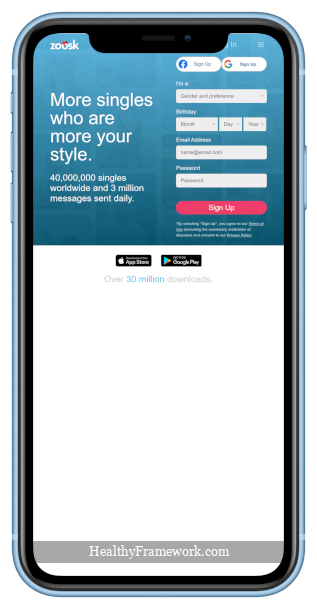 Is Zoosk Legit? – The Bottom Line Upfront
Zoosk is legit. It might not be as feature-rich of an online dating site as something like eHarmony, but it has a ton of members, some great matching tools, and a track record of helping connect people.
If you're looking for the bottom line upfront, Zoosk is a great fit for casual dating, finding a serious relationship, and there are some people on there just looking to hook up. It seems to be a healthy mix of all three. If you are looking for a dating site 100% dedicated to serious relationships, check out our list of the best dating apps for relationships.
Biggest Pro – Over 40 million accounts and over 3 million messages sent daily. If you're worried about finding someone you like online, it's nearly impossible with this many options (and at such an affordable price).
Biggest Drawback – If you are set on something like a serious relationship only, you may get messages from people who are looking for more casual dating. As long as you're okay with having to click delete a few times, it's no big deal.
The bottom line answer to whether or not Zoosk is legit is that it absolutely is. It's nice to see a dating site that has a little something for everyone AND they let you search through your matches before you have to even think about upgrading to a paid account. If you'd like to check things out, we've got a link below that will get you started with that free trial account right now.
---
Overall Zoosk Rating
| Category | Score |
| --- | --- |
| Quality Matches | 9.7/10.0 |
| Features | 9.5/10.0 |
| Ease of Use | 9.6/10.0 |
| Support | 9.2/10.0 |
| Cost | 9.8/10.0 |
| Overall | 9.5/10.0 |
9.5/10.0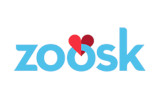 Pros and Cons of the Zoosk Dating App
Pros
Over 40 million + singles with accounts
3 million messages + sent daily on average
Swipe-like feature to meet singles in your area
Very affordable membership plan options
Cons
Ads during the free trial
---
Zoosk Reviews – Table of Contents
Feel like kicking back and letting us do the hard work? If you'd rather watch the Zoosk review, check out the video we've put together for you here that outlines all the details you need to know.
---
Fast Facts About Zoosk
Site Name: Zoosk
Paid or Free: Paid site with a limited free trial
Average Sign-Up Time: Under 5 minutes
Paid Membership Pricing: Plans starting as low as around $12 per month
Unique Zoosk Facts and Figures:

Founded in 2007 in Fremont, California
Over 3 million + messages sent on average every day
Part of the Spark Network group of dating sites
A good mix of people looking for all kinds of relationships
Zoosk Screenshots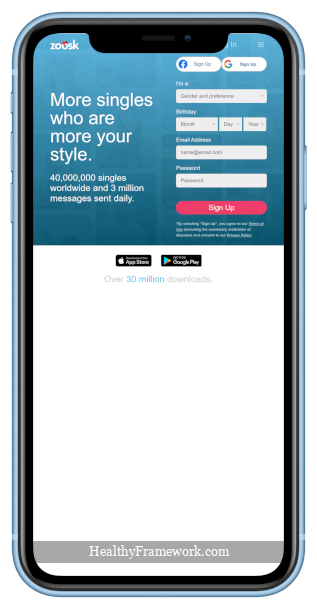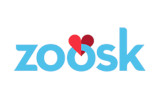 ---
The Sign-Up Process
The first stop in our Zoosk review is the sign-up process. It shouldn't take you more than about five minutes to get your account set up. Zoosk starts by asking you nine questions to start filling out your profile before you can start searching through matches.
These include:
Where Do You Live?
Upload a Picture (You can skip this step)
What is Your Body Type?
Do You Have Children?
What's Your Highest Level of Education?
What's Your Ethnicity?
What's Your Height?
What's Your Religion?
Do You Smoke?
Once you complete these questions, you're taken to your first match! Again, the entire process takes about five minutes max and immediately takes you to matches. You aren't required to input any payment methods or credit cards or anything like that during the free trial sign up through the links we've provided on this page.
---
Are there good quality matches on Zoosk?
The next stop, and arguably the most important part of our Zoosk reviews, is the quality (and quantity) of the matches. For quantity, Zoosk is a slam dunk. With over 40 million members, it's hard to find anything negative to say about that.
As for the quality of the members we found during our Zoosk review, we were overall pretty pleased. The majority of the profiles we saw were filled out and had pictures. We ran into a few people that were a little light in their responses, but it's totally up to you how you choose to fill out your profile (and how much effort you put into it).
And now for the lightning round from our reviews of Zoosk:
Were there members from all age brackets? Yes. The majority of members seemed to be from around 18 to 45.
Were the members on Zoosk attractive? We think so! While this is subjective, we saw a lot of men and women who were easy on the eyes and seemed to have a lot of good things going for them.
Were the members on Zoosk active? While we'd like to be able to see a note on each profile that says when they were last active, it's not a feature on Zoosk. However, you can click on the section that shows "Online Now," and you can be pretty dang sure those people are still active. Update: Zoosk now shows if a person was recently online on their profile
Here's what the profiles on Zoosk look like. We've blurred out the information, but you'll be able to see all of that when you sign up.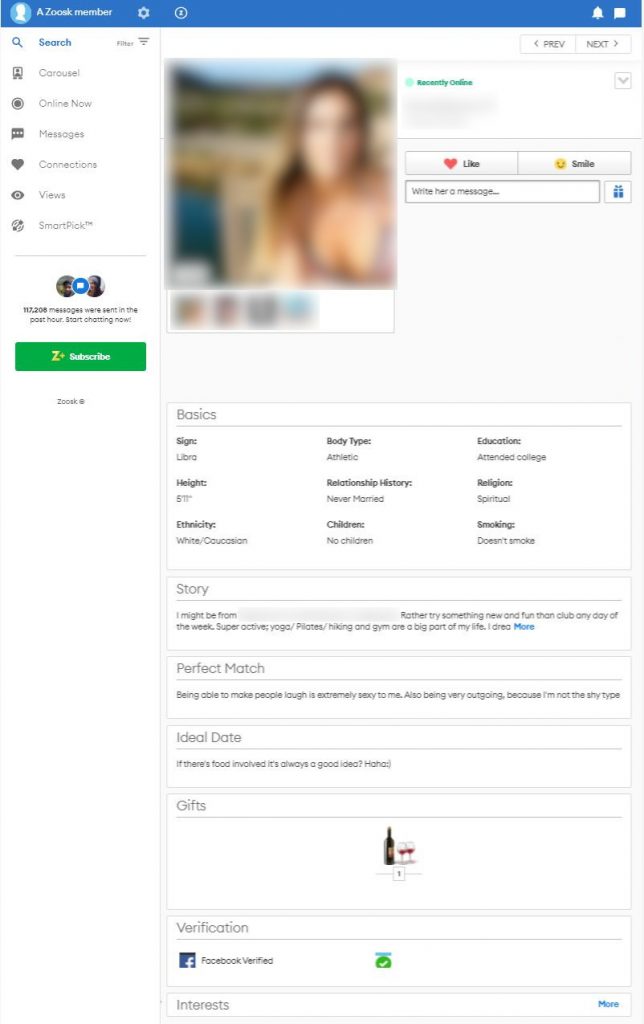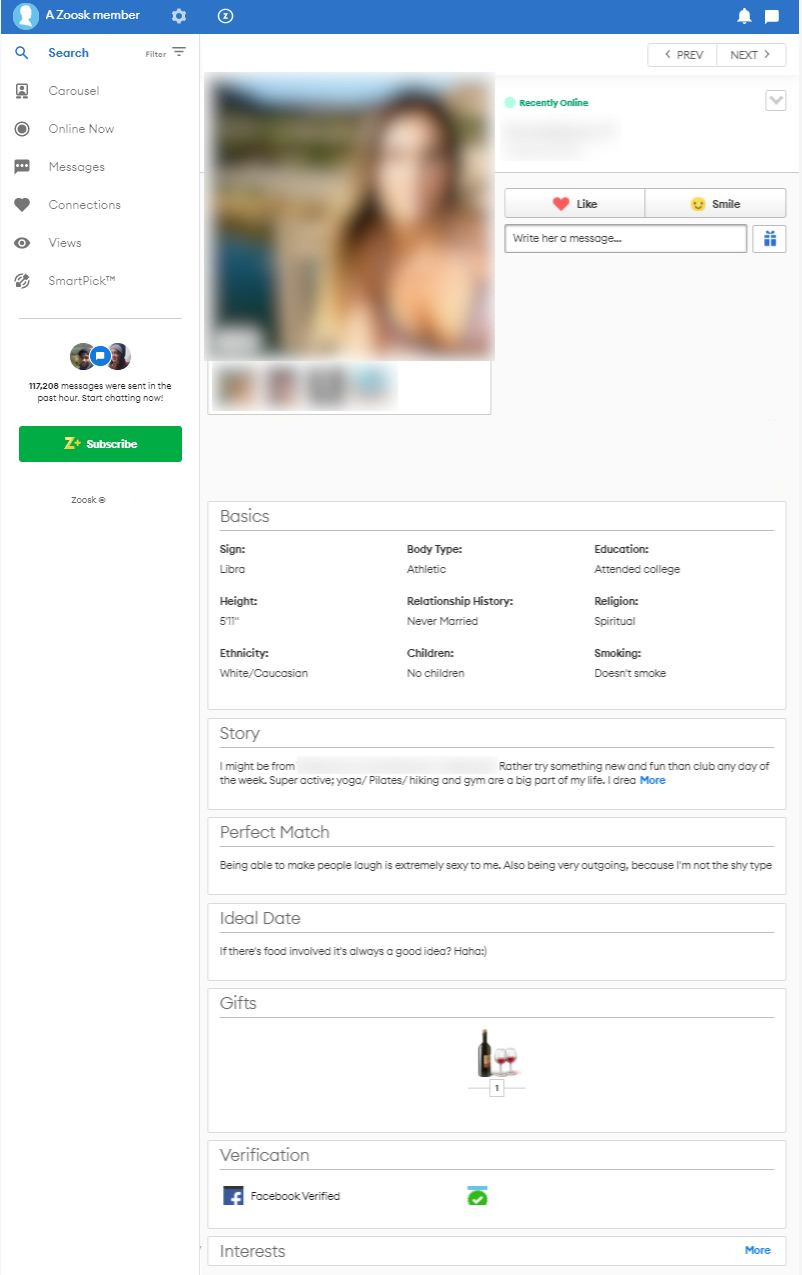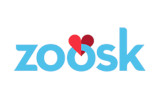 ---
How easy is the site to use? 
We found the site super easy to use during our Zoosk reviews. There are clearly defined menus, everything is laid out intelligently, and it all looks great on mobile and your computer. Here are some of the takeaways on the ease of use of the site:
Matches are always shown to you one at a time and not in a list or grid-like many other online dating apps.
The Zoosk app can be used on your desktop, tablet, or through an app on your iOS or Android device.
The Carousel feature is one of the best ways to see your matches quickly.
---
Are there any great features?
SmartPick Technology
Carousel Feature
Facebook Verification
Gifts
Zoosk Coin Boosts
SmartPick Technology
The heart and soul of the Zoosk platform is the SmartPick technology. It's the company's algorithm that has a pretty good track record of helping people find love. Part of taking advantage of online dating is letting technology do what it does best.
Carousel Feature
Like the swipe-style method of looking through matches? If you do, our Zoosk review revealed that the dating site has just that for you. It's called Carousel. And you know what? It works just like Tinder but with a different dating pool.
If you like them, give them the green checkmark. If you don't like them, give them the red X. and If you really like them, click the gold star! If two people click that they like each other, then Zoosk will let you both know. It gives new meaning to the phrase 'clicking with someone.'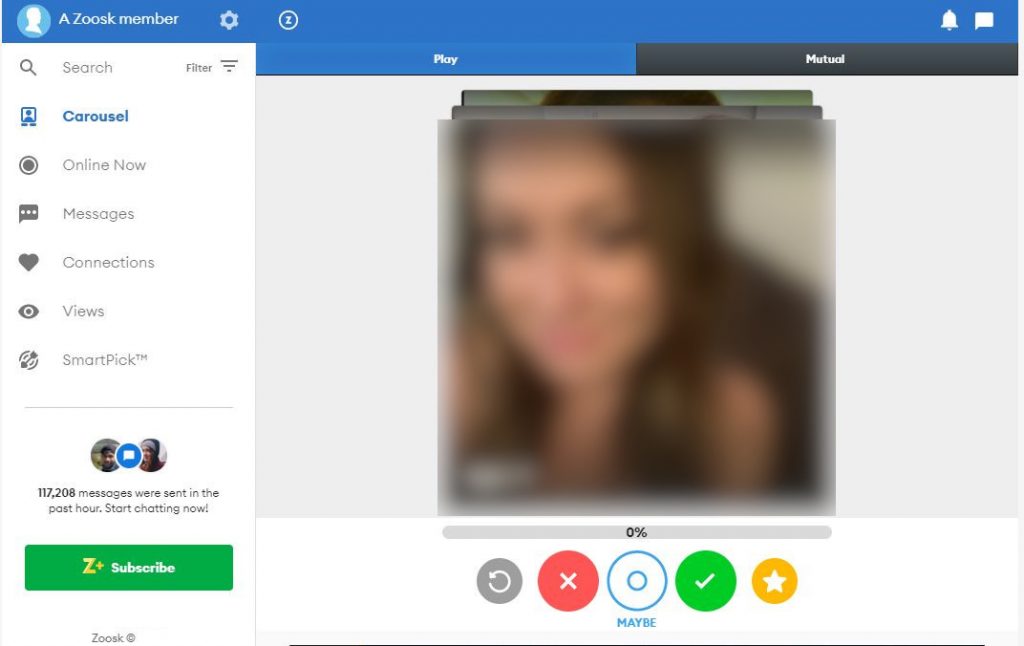 Facebook Verification
A big fear that comes with online dating is that there are going to be a lot of fake profiles. Zoosk allows singles to verify they are who they say they are through Facebook. While this system isn't perfect, it's way better than dating sites that do nothing.
Oh, and if you're worried that Zoosk is going to post on your Facebook, don't worry; that's not going to happen. The verification is only used to make sure you are who you say you are, which will increase your success on the site.
Zoosk Gifts
You are able to pay a few bucks extra and get coins (known as Zoosk coins) that allow you to buy gifts for other members. No, these aren't real gifts; they're just digital pictures/emojis that show up on the person's profile. While they can't do anything tangible with the gift, it does show an added layer of interest. If you want to put yourself right in their line of sight ahead of other singles, 'gifts' is a nice feature to use.
Zoosk Coin Boosts
Zoosk coins can be used for more than gifts; they can be used for profile boosts. This allows you to pay a few bucks and get your profile to the top of searches for a period of time. This can really help to turbocharge the number of messages you get and the number of other singles that take a look at your profile.
---
Tell me about customer support.
You've got two options for customer support that we found during our comprehensive Zoosk reviews—contact form and FAQs. The contact form is a bit tough to find, but it gets you in direct contact with the Zoosk customer support team. While we'd like to see a live chat or phone option, the team still does a great job of answering questions and solving issues.
And speaking of answering questions, Zoosk has one of the most expansive frequently asked questions sections to help answer all of the most common (and some obscure) questions.
---
Price | How much does Zoosk cost?
Compared with the rest of the online dating industry, Zoosk is very affordable. Below, you'll find the most up to date list of pricing.
| Membership | Term | Price Per Month | Total Price | Savings (vs. 1 Month) |
| --- | --- | --- | --- | --- |
| Basic | ~ | Free | Free | ~ |
| Premium | 1 month | $29.95 | $29.95 | 0% |
| Premium | 3 months | $19.98 | $59.95 | 33% |
| Premium | 6 months | $12.49 | $74.95 | 58% |
| Premium | 12 months | $12.49 | $149.88 | 58% |
If you'd like to see a complete breakdown of Zoosk pricing, including different plans, features, payment options, and more, check out our dedicated Zoosk cost page.
Here are a few of the key takeaways:
Memberships are available in 1, 3, 6, or 12-month increments
The longer the term you sign up for, the more you save
Zoosk also sells coins for things like profile boosts and gifts
You get all features with every membership, except for the gifts and boosts. There is only one membership level.
---
Is Zoosk worth it?
If you're looking for a good "middle of the road" dating option, Zoosk is the perfect fit. It doesn't have all of the bells and whistles of the top sites like eHarmony, but it's got plenty of tools to help you meet that special someone. And if we're being honest, the fact that there are 40 million members sending over 3 million messages a day should be plenty to get you excited about the site.
Here's what we recommend. Use the links we've provided and take advantage of the free trial. Answer the sign-up questions and start searching for singles in your area. If you see people you may be interested in, upgrade to a paid account.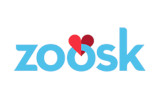 ---
FAQ
Is Zoosk free?
You can get a free trial account for Zoosk through the links we've provided. However, if you want access to all of the features that Zoosk offers, you will need to pay to upgrade your membership.
Is Zoosk a good dating site?
Yes, Zoosk is a good dating site for a "middle of the road" option. This means there are plenty of great singles, and the site is affordable, but you don't quite get as many features as you do with the higher-priced memberships.
Are Zoosk views fake?
No, Zoosk views are not fake. If you're told that a member looked at your profile, they did. The only information not shown is how long that person looked at your profile. It's our understanding that even quick glances count in this total.
Is Zoosk better than Tinder?
Zoosk offers the same swipe-style dating options like Tinder, but also offers traditional online dating. If you're only looking for hookups, you'll have better luck with Tinder. However, if you are looking for dating or a serious relationship, Zoosk is better than Tinder.